There's a spot east of where my folks live that I just love. It's a place called "the Badlands" and I knew it was the perfect place to drag John, alias
Juanderlust
. He didn't know what he was getting into.
After successfully surpassing the Laguna mountains, which range up to about 4000 ft. and displayed remnants of snow, we reached Borrego and searched for the exit to our destination. John was sure I was crazy when he saw the exit.... a sandy, hard to recognise, wash.
His little Suzuki mastered soft underground, and John was even more unsure about my state of mind. Until we reached our goal.... Font's Point. The view amazes me every time I visit that spot.
He was sure I brought him there just to toss him over the edge. Now would I be so cruel? Don't answer that!
The whole landscape reminds me a lot of Egypt and my tour there last January. Perhaps that's the reason why I like Egypt so much... it's so much like this place.
There were some folk out there camping and painting and one gentleman was kind enough to catch the two of us together.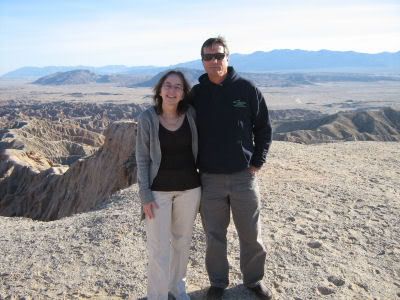 Well, John survived the cliffs and on our way back to Borrego for lunch we stopped by Peg Leg Smith's monument. Now, you're supposed to bring 10 rocks and add them to the pile in order to find the goldmine. Well, we didn't bring any with us, but there were enough lose ones around so John just picked up 10 of them and added them to the pile... needless to say, we didn't find the goldmine. If you look close, you can see the rocks flying through the air......

We then drove back home, this time over a less winding road. I think John enjoyed the curvy, winding roads more then the view at Font's Point!
So, after showing this spot to
Fitzgerald
a few years ago, another Journalspacer has been introduced to the wonders of Southern California from a gal living in Europe.
Today I met up with
Fitzgerald
down at the beach and we did a lot of JS discussion. He's turned out to be a good moderator at my
JS Fun Forum
... thanks for that Fitz!
And tomorrow I meet up with
Kashew
...
So, as y'all can tell, I'm keeping busy as usual!
Dorrie